Enabling innovative 3D sensing applications—from biometric security to virtual reality
Lumentum diode lasers are the choice of the world's largest smartphone, computing, and gaming product OEMs for use in sophisticated 3D sensing systems. In mobile devices, our diode lasers are used for biometric security applications including face recognition. For gaming, the lasers enable users to control interfaces or play using gestures and body movements. More than 200 million Lumentum diode lasers are operating today around the world. The recorded field failure rate for this huge population of devices is less than one part per million.
Decades of telecom experience provide the foundation for 3D sensing systems
Diode lasers are at the heart of global optical communications networks that carry colossal quantities of voice and data traffic generated by people and businesses. Thanks to the field-proven quality, performance, and reliability of our products, Lumentum is a world leader in this market. We supply more diode lasers to the telecom networking equipment industry than any other manufacturer. All Lumentum diode lasers, regardless of application, benefit from our decades of experience meeting the stringent requirements of the communications industry.
Superior laser integration expertise
Although every application has its unique characteristics, Lumentum technical expertise will help customers support design integration and offer products with predictable and reliable operation over a long lifetime with high-volume shipments of consistent quality. Because we offer a broad range of diode laser technology, customers can evaluate diode lasers of different types, maximum power ratings, and wavelengths, and readily find a device with specifications which closely match their application requirements. Lumentum provides impartial advice on the comparative advantages of each type of diode laser, whether used in time-of-flight (ToF), structured light, coherent FMCW, or active stereo camera applications.
VCSELs
Narrow bandwidth: <1 nm
Power range: 200 mW - scalable to 10s of watts
Output beam: circular
Wavelength locking with temperature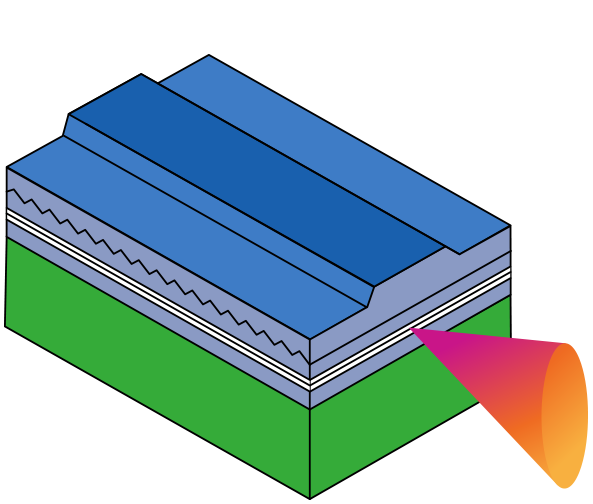 DFB Edge Emitters
Narrow bandwidth: <1 nm
Power range: 200 mW - scalable to 10s of watts
Output beam: elliptical
Wavelength locking with temperature
Fabry-Perot Edge Emitters
Wide bandwidth: >1 nm
Power range: 200 mW - scalable to 10s of watts
Output beam: elliptical
The most efficient solution
Lumentum diode lasers operate at wavelengths in the range 800-950 nm, and with a power output from as low as 200 mW to as high as tens of watts.
To find out more about Lumentum diode lasers and technology, please contact Lumentum Customer Service.