Ensuring reliability and safety
Evolving 3D sensing technology will play an increasingly critical role in improving the safety and capabilities of smart and autonomous vehicles. Building on our expertise in delivering reliable diode laser solutions for communications, consumer, and military applications, Lumentum has developed a portfolio of diode laser products that match the quality, range, and reliability requirements of the automotive industry.
3D sensing in vehicles—the road to automated driving
The ability to build a comprehensive 3D map of the environment and the objects within it involves capturing a wide variety of data from what is happening hundreds of meters down the road to how alert the driver is. One of the key technologies for long- and short-range scanning is LiDAR (light detection and ranging) that fundamentally captures more detailed information and provides greater accuracy than traditional scanning-based sensors like radar and camera-based imaging. According to the National Highway Traffic Safety Administration (NHTSA), an automated driving system should be able to monitor the driving environment from levels 3-5 of autonomous driving, with little or no human intervention. For in-cabin scanning, the recent Euro NCAP (The European New Car Assessment Programme) mandate for driver monitoring systems (DMS) is well on its way to becoming a safety standard in Europe for next-generation vehicles.
Automotive 3D sensing captures a great deal of vehicle, environmental, and driver data
Diode lasers are a cost-effective way to implement advanced driver assistance systems (ADAS) including long- and short-range LiDAR, as well as close-range, in-cabin sensing.
Long-range LiDAR (200 m): uses a narrow cone of light to detect objects ahead of the vehicle, with a range up to 200 m. It provides data used for pedestrian detection, collision avoidance, and emergency braking.
Short-range LiDAR (10-50 m): used to scan the area around the bumpers. It is used not to just detect objects but to also identify what they are. For example, it can help the vehicle identify the difference between a fire hydrant or a child standing by the curb.
In-cabin sensing: by collecting driver and occupancy data, in-cabin sensing enables driver monitoring; i.e., whether the driver is actively paying attention to the road or is distracted or drowsy. In-cabin sensing also makes it possible to support gesture recognition for in-car navigation, communications, and infotainment systems.
VCSELs
Narrow bandwidth: <1 nm
Power range: 200 mW - scalable to 100s of watts
Output beam: circular
Wavelength locking with temperature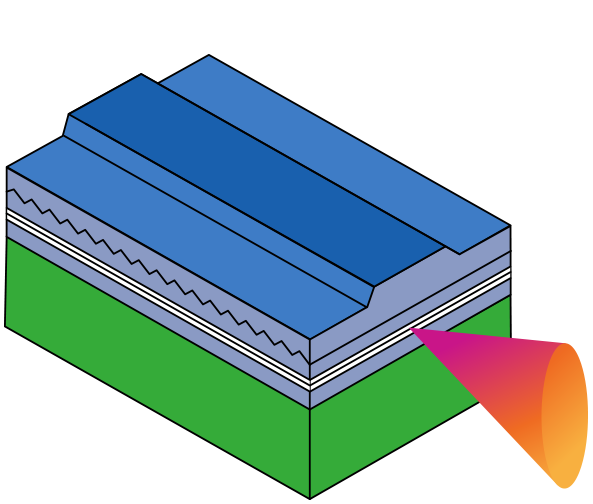 DFB Edge Emitters
Narrow bandwidth: <1 nm
Power range: 200 mW - scalable to 10s of watts
Output beam: elliptical
Wavelength locking with temperature
Fabry-Perot Edge Emitters
Wide bandwidth: >1 nm
Power range: 200 mW - scalable to 10s of watts
Output beam: elliptical
The most efficient solution
Lumentum offers many different diode laser options, each with specific advantages depending upon the application and type of 3D sensing option deployed (time-of-flight, structured light, coherent FMCW, or active stereo camera).
Lumentum offers 1550 nm narrow-linewidth DBR diode lasers for long-range frequency-modulated continuous-wave (FMCW) coherent LiDAR and high-power 905 nm and 940 nm VCSEL array illuminators for short-range LiDAR and in-cabin monitoring. Lumentum also offers extremely high peak power multi-junction VCSEL arrays for short, medium, and long-range LiDAR applications. These diode lasers offer high-volume, consistent reliability, and high quality—with scalable manufacturing.
To find out more about the Lumentum diode lasers and technology, please contact Lumentum Customer Service.
Resources