200G CFP2-DCO
TRB100DAA-01, TRB200DAA-01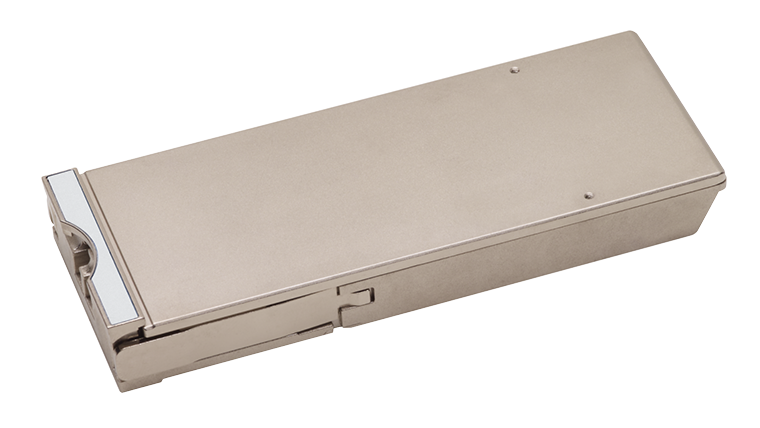 The Lumentum CFP2-DCO pluggable transceiver is a CFP2 MSA-compliant digital coherent optical module designed for line-side trunk DWDM data center interconnect (DCI), metro carrier, and regional/long haul applications. 
The 100 and 200 Gbps per wavelength CFP2 digital coherent optical transceiver incorporates Lumentum co-packaged indium phosphide (InP) PICs including Lumentum narrow linewidth tunable laser, both the Lumentum InP Mach-Zehnder modulator and the Lumentum micro-intradyne coherent receiver (µICR) with integrated VOA, together with the industry's most interoperable digital signal processing (DSP) ASICs to support 100 Gbps PM-QPSK and 200 Gbps PM-8/16QAM transmissions. 
The Lumentum CFP2-DCO module adopts a common C-band flex-grid laser source providing both transmitter and local oscillator signals, calibrated to provide 100 MHz frequency accuracy, and ±6 GHz local off-grid tuning.
The transmitter comprises of bulk optics lightwave multiplexing and the IQ Mach-Zehnder modulator with integrated SOAs internally coupled with a quad channel modulator driver IC.
The receiver comprises optics demultiplexing, dual InP 90°optical hybrid mixers with integrated balanced PIN photo-detectors coupled with a quad channel TIA.
An IEEE802.3 Clause 45 compliant MDIO management interface is used for control, alarms, monitoring, and diagnostics.
The module mechanical outline is the standard CFP2 MSA size (106 mm x 41.5 mm x 12.4 mm). Electrical interfaces are provided through the 104-pin connector and optical interfaces through two LC optical receptacle connectors.